Printable Chesterton Prayer Cards
Pray for the cause of the beatification of Gilbert Keith Chesterton while seeking his intercession for the end of abortion and for your particular intentions.  At the same time you will grow in appreciation for this marvelous man and the many gifts he brought to a troubled world.  May we imitate his constancy, his charity and his good humor as we fight the battles before us.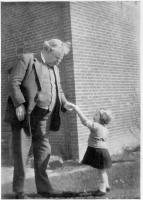 Click on the links below and create your prayer cards eight at a time by printing the files back to back.
Front – Chesterton Prayer Card
Credit to the Catholic G. K. Chesterton Society for the creation of these cards.
Here we re-publish an article by Bishop Robert Morlino of the Diocese of Madison wherein the bishop provides a wonderfully clear exposition of the distinction between those burning issues of our day that involve intrinsic evil and those issues that are merely matters of prudential judgment. Nor does the good bishop leave us to fend for ourselves in forming and employing judgment. He writes about the use of the principles of solidarity and subsidiarity in working through key questions. These principles are near and dear to the heart of A Sensible Life!